Google Hotel CPC & Metasearch for Hotels
In the world of online travel first came the search engines, then the OTAs (online travel agencies, i.e. Expedia) and most recently the metasearch engine websites such as Trivago and Kayak. Hoteliers are forced to evolve and utilize new online channels to be visible and compete effectively online. But what is the most effective way for hotels to use these channels? Since the launch of Google's Hotel CPC program, hotels must now use a combination of search engine and metasearch campaigns just to be visible throughout Google's search engine features. What are you doing to ensure your hotel is visible and driving qualified traffic across these online channels? Let's break down what metasearch for hotels means, where it fits into your online marketing strategy and how hotels can be successful using this marketing channel.
WHAT IS HOTEL METASEARCH?
Unlike OTAs such as Expedia, Orbitz, and Travelocity, metasearch engines don't hold their own inventory of hotel rooms. Instead, metasearch engines pull data from other search engines to provide information to users about rates and availability. The metasearch engine will then direct the user from their website to the original source (i.e. OTA or hotel website) to book their stay. The metasearch engine will then receive a referral commission or CPC charge for sending the traffic to the hotel or airline website.
Examples of Hotel Metasearch include:
Kayak
Trivago
Google's Hotel Ads
TripAdvisor
Hipmunk
Skyscanner
WHY SHOULD HOTELS PARTICIPATE IN METASEARCH
IT IS IMPORTANT FOR HOTELS TO BE VISIBLE WHERE CONSUMERS ARE RESEARCHING, FROM THE TOP OF THE FUNNEL TO THE BOTTOM. This requires a strategy that incorporates multiple channels including search engines, metasearch engines, OTAs, social media and more. Metasearch should be viewed as another tool to gain exposure to new customers and drive conversions. Just like all tools in your hotel's marketing strategy it should be tested and analyzed to assess if it is successful in achieving your business goals and objectives.
TO COMPETE WITH OTAS AND THEIR COMPETITION FOR DIRECT BOOKINGS. Similar to paid search campaigns, metasearch campaigns allow hotel's to compete with OTAs for ad space that is critical in driving direct bookings through the hotel website. If you're not present with ads in metasearch you are losing out on bookings to competition and OTAs. If the consumer books through an OTA you're losing out on critical information needed to market to those guests in the future and increase the lifetime value of the guest.
VOICE ASSISTANT TRAVEL SEARCH IS CURRENTLY POWERED BY METASEARCH. Voice assistants, such as Alexa and Google Home, are the newest channel for search powered exposure to consumers. Currently, these devices are partnering with metasearch engines such as Kayak to provide hotel, flight and travel search results. The metasearch and OTAs are going to be the first to provide a way to enter this channel. My prediction is that if you want your hotel to be present in these voice assistant searches you'll need to be visible through metasearch channels.
LOCAL SEARCH IS MOVING TOWARDS A PAY-TO-PLAY MODEL. Google is continuing to monetize search results, the most recent changes being seen in local search within the Google My Business listings and map pack. Just a couple weeks ago Google changed their map results to show rate cards directly on the map, as shown below: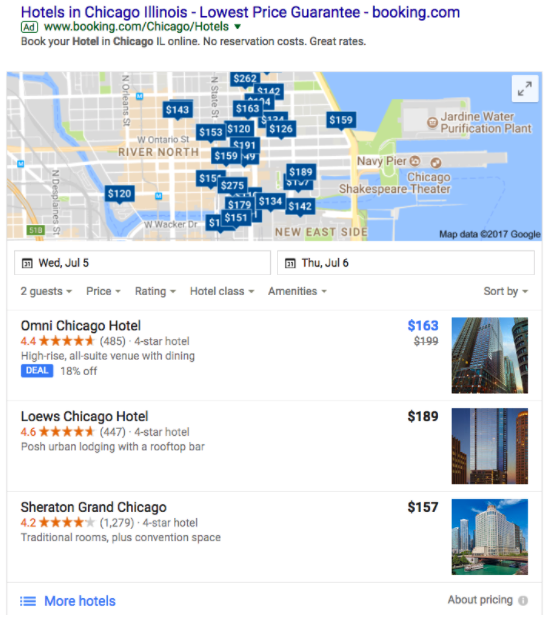 Here's another view, taken directly from inside Google Maps:
In the above screenshot, you can see two different ways Google's monetized the local search results for hotels. The first is the ads on the far right for Cambria Hotel and AC Hotel. These ads are managed directly through Google Adwords paid search campaigns. The second is shown in the details view for Omni Chicago Hotel, which are the OTA channels displaying with rates – these ads are populated through Google's Hotel CPC program. Google's Hotel CPC program is a form of metasearch and managed separately from Google Adwords paid search campaigns.
HOW CAN HOTELS PARTICIPATE IN METASEARCH?
Hotels can participate in Metasearch directly through their Google Hotel partner booking engine providers. The Google Hotel program requires a direct API with rates and inventory feed directly from booking engine to Google. Google Hotel CPC partners include Synxis, TravelClick and more. You can find a full list here. Pricing through your booking engine is typically set up on a commission based model that charges you a percentage based on revenue from reservations driven by the campaigns. Some also charge CPCs on top of this commission. Review contracts with your booking engine partner to ensure it will be a profitable model for your hotel.
HOW CAN HOTELS BE SUCCESSFUL WITH METASEARCH?
Just like all other marketing channels and campaigns, it is important to closely monitor key performance indicators from your metasearch campaigns.
Work closely with your booking engine partner to ensure you are receiving reports that detail clicks, CPCs, costs, reservations and revenue attributed to these campaigns.
Monitor KPIs through each metasearch channel – which channels are performing best? Which ones are costing you money? Not all metasearch channels will perform the same. Make sure your booking engine partner that is managing your campaigns are shifting budget to the ones that work best for your hotel.
Have a question? We can help.