Every Question You've Ever Had About Google Hotel Ads, Answered.
With it's recent global launch of free booking links, Google has shown its commitment to focusing on the growth of the Google Hotels platform. From our perspective, it seems to be a move by the search engine to motivate more hotels to participate in this channel by offering them "free" organic traffic in order to drive more ad spend through Google Hotel Ads. Regardless of Google's motivation, if your hotel isn't currently participating in these auctions with your own direct channel connection and campaigns, you're forfeiting valuable direct bookings to the OTAs. A strong emphasis on direct bookings has always been the strategy we've employed for our hotels, but direct bookings and ownership of guest data will become even more important as we move into a cookieless world.
Within this blog post I hope to answer every question you've ever had about Google Hotel Ads. If I've missed anything please reach out with your questions and our team will be happy to answer them for you.
Learn More About Google Hotel Ads Paid, Organic & Property Promotion Ads Below.
What are Google Hotel Ads?
Google Hotel Ads is Google's metasearch offering for hotels. It allows hotels to integrate a direct feed of their rates and inventory and pay for visibility within the search engine's popular Google Travel, Google Maps and Hotel search products.
This screenshot shows Google Hotel Ads rates and inventory within Google Hotel search.
The below screenshot shows Google Hotel ads paid listings displayed for a specific hotel selected within Google Hotel Search.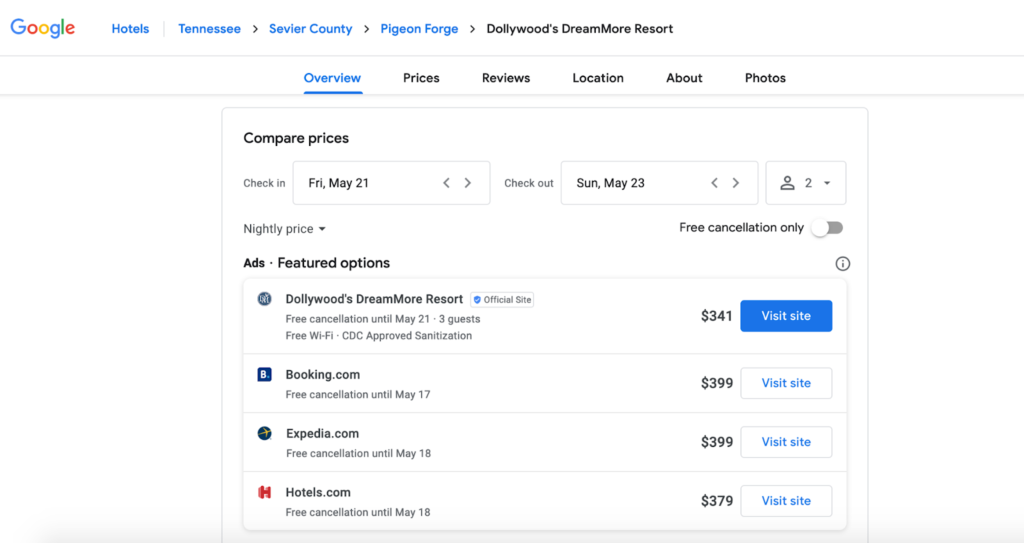 The next screenshot shows Google Hotel Ads appearing within a hotel's knowledge panel on the main search engine results page.
How Can My Hotel Be Shown Within Google's Hotel Search Products?
In order for your hotel to show rates and inventory within Google Hotel Search, Google Maps and directly in the map pack, your hotel must be set up with a direct feed of your rates and inventory to Google. This is possible through one of Google's data integration partners pulling rates directly from your hotel's CRS. Your hotel rates and inventory could also be shown within Google Hotel Ads from a reseller or OTA such as Expedia or Booking.com.
How Can I Optimize Performance In Google's Hotel Ads?
The first place to start when understanding how to improve your performance on Google Hotel Ads is by setting goals for how you view success with this channel. You can use features within Google Hotel Ads to help drive awareness and traffic to your site (i.e. hotel promotion ads) but you can also use it as a powerful tool for focusing on the bottom of the funnel to drive more direct bookings. Regardless of the KPIs you focus on, here are the best ways to set your hotel up for success in Google Hotel Ads and within Google Hotel searches.
RATE PARITY - I put this one in all caps because it is so important and an area where a lot of our hotel clients struggle. If your hotel's rate is getting undercut by OTAs this means that the user is going to book with the OTA, there is no way around it. In order to be successful on Google Hotel Ads, and with any direct booking strategy, is to make sure your hotel's rates are not higher than the OTAs. We recommend using a great rate parity tool such as the one available through The Hotels Network.
Price Accuracy - The rate you display in your feed within the Google Hotel Ads must match what is displayed on the landing page you send the user to. If you are not providing Google with accurate rates, you will suffer in rank and it will cost more to compete in the ad space.
Landing Page Experience - Make sure the landing page you direct your visitors to from your Google Hotel Ads loads quickly and offers comprehensive information they need to complete their booking.
Strategic Bidding - Make sure you are approaching your bidding strategy to focus on your goals and most important KPIs for this channel while keeping your budget in mind.
Optimize Your Hotel's Google My Business Listing - When and how often your hotel shows within Google's hotel search for relevant searches is closely linked to how accurate and well built out your hotel's Google My Business listing is as well as local SEO signals such as quantity and quality of reviews. Keep your listing up to date and keep encouraging your guests to leave reviews and make sure you are responding to them!
What are Google Hotel Ads Property Promotion Ads?
Google Hotel Ads' property promotion ads have spent the last year in beta and were launched globally in March, 2021. To find these ads go to Google Travel's hotel search for a specific location. In the below screenshot you will see the top two results listed as "ads". Ads in this position are considered Google Hotel Ads' Property Promotion Ad Type. These ads are best used for driving brand awareness and visibility during top of funnel hotel searches, i.e. hotels in Pigeon Forge.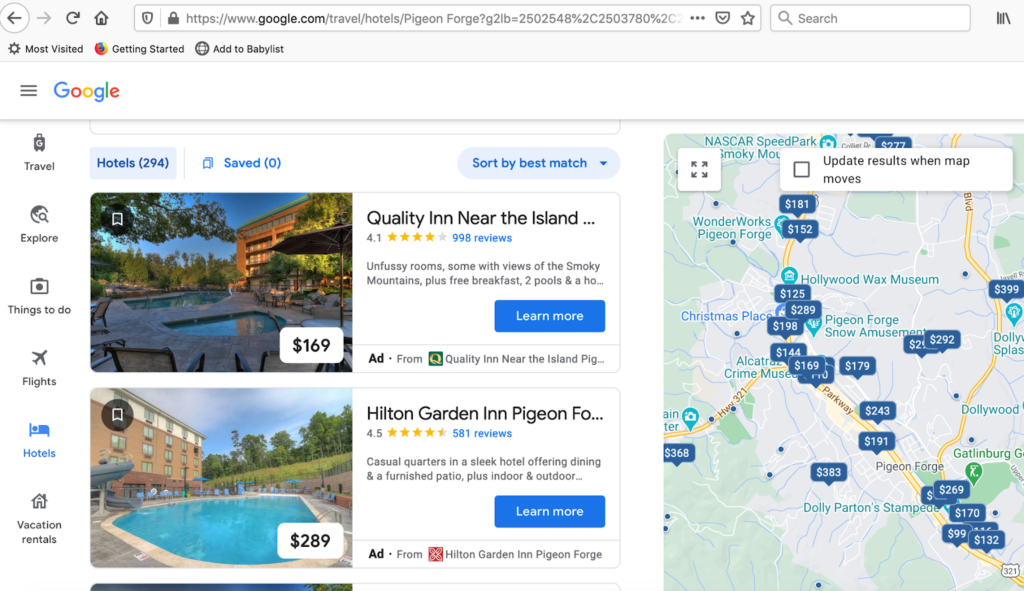 How Can My Hotel Be Featured With A Google Hotel Ads Property Promotion Ad?
Since Google Hotel Ads property promotion ads are in a premium spot above the general hotel listings, they incur a premium charge to be featured. You can opt in for these placements but it's important to keep in mind that this ad type is geared more towards generating brand visibility and awareness and less towards generating a great ROAS.
Google Hotel Ads Organic Listings
What Are Google's New Organic or Hotel "Free Booking Links" Within Google Hotels?
Google recently launched an organic listings section within the previously "pay to play only" Google Hotel Ads listings. They are organic links within Google Hotel search that send direct traffic to your hotel's or the OTAs' websites and feature rates and room types from a direct connection to your hotel's CRS or to an OTA such as Expedia.
Where Can I Find Google Hotel Free Booking Links?
If you are viewing any place within Google that lists Google Hotel Ads, you'll now see a section under "Ads" titled "All Options". The listings under the "All Options" section are Google's new free hotel booking links (see below screenshot).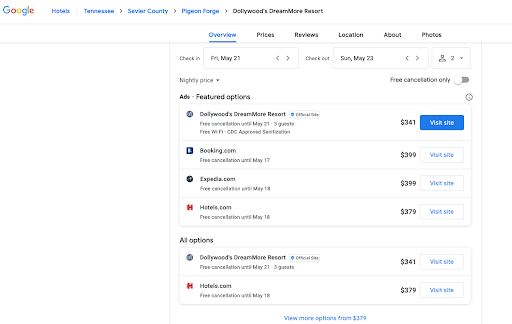 How Can My Hotel Get A Google Hotel Free Booking Link?
Google's free booking links use the same direct feed of rates and inventory set up for paid Google Hotel Ad booking links. These booking links then direct the user to the site landing page that has been assigned within the direct feed of rates and inventory. If your hotel currently uses a connectivity partner for paid Google Hotel Ads then you are automatically enabled for the Google Hotels free booking link feature. If you don't currently have a metasearch connectivity partner running Google Hotel Ads metasearch campaigns for you then your hotel's official site/direct link won't show in the organic free booking link section and your hotel's rates and inventory will only show for free booking links for OTA partners.
How Can I Get My Hotel's Free Booking Link To Rank Better Or Show More Often?
Similar to the main organic search results, Google Hotels' free booking links use a variety of signals to determine which free listings to display to viewers. This includes "consumer preference, value offered to the user, landing page experience, and historical accuracy of prices provided to Google" (Google Help Center). Here are the main areas to focus on in order to optimize your Google Hotel free booking links:
Make sure your hotel's Google My Business listing is accurate and complete
Make sure the rate you are sending in your data feed matches what is shown on the booking page for those dates and make sure you are sending Google the lowest rate found on your booking page
Make sure you're in rate parity and are offering the same or lower rate compared to OTAs
Optimize your hotel booking link's landing page experience for the user. This includes making sure users can find the rate and room type on the landing page, that the landing page has informative copy and that it loads quickly for users no matter what device they are using
Do I Still Need To Run Google Hotel Paid Ads If I Can Just Feature A Free Booking Link?
Technically you do not need to run Google Hotel Paid Ads to have your free booking link shown in the organic results. You will need to have a metasearch connectivity partner that can sync your hotel's rates and inventory with Google's platform, BUT the free organic booking links don't always show and tend to receive much less visibility and clicks. If you were to turn off your Google Hotel paid booking links you'd be cutting off the majority of booking volume from this channel and allowing OTAs to dominate the space.
What Impact Does The Free Booking Link Feature Have On Google Hotel Paid Ads?
The launch of the free organic listing booking links section could translate to less available positions for ads, making the space more competitive and causing the cost/reservation or CPCs to increase. Just like in the main Google SERP, preference will still be given to paid ads and Google will focus on strategies to make the auction more competitive so they can further monetize the space to increase their own profits. Part of Google's motivation behind offering the free links may be to drive more hotels to participate in the space and set up paid campaigns.
What Should I Do Now?
If you are not currently participating in Google Hotel Ads directly with a metasearch connectivity partner, get signed up now. If you're not active in the space, it's guaranteed that the OTAs are and are raking in the bookings that are happening here. GCommerce offers attractive options to ensure your hotel is able to participate in this space, no matter what your budget is. Please reach out to us today with any questions or to learn more about our hotel metasearch offerings.