Build Brand Awareness Through Pinterest Promoted Pins
Pinterest is becoming increasingly more important in the travel marketing space. Defined by the company as "The world's catalog of ideas" (Pinterest), it can best be described as a visual bookmarking tool. It essentially is a space where people can save recipes, DIYs, lifehacks, products, and other interesting information from around the internet. Currently, 150 million active Pinterest users browse the platform's 75 billion pins (DMR), but Pinterest remains relatively under-utilized by the hospitality industry. In 2016, Pinterest expanded its digital marketing offerings through the introduction of video ads, a "buy button", and, earlier this year, debuted search ads (Forbes, WSJ). But in order to understand Pinterest's influence, it's important to understand what purpose it serves. So that being said, how can a hotel utilize Pinterest to their advantage?
While other social marketing platforms, such as Facebook, are great for retargeting efforts, Pinterest serves largely as a brand awareness tool. Many users browse Pinterest to research and plan their purchases, or in the awareness mindset. Pinterest primarily serves the top of the funnel and understanding this is key to correctly utilizing the platform.
Promoted Pins
"Promoted Pins" are Pinterest's native advertising offering. They look and function similar to regular pins, only businesses pay for users to see them.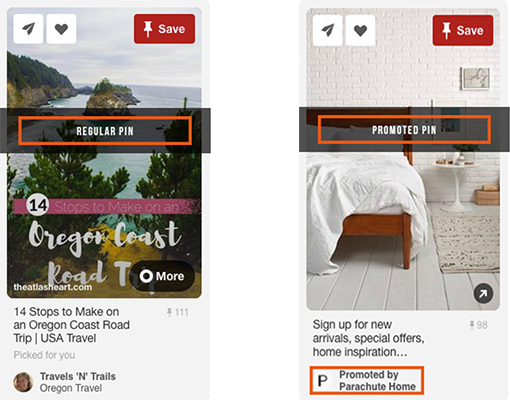 It is essentially Pinterest's version of Facebook promoted posts. They can be utilized for common marketing goals including awareness, engagement, and traffic. Like Facebook, all advertising is managed through a Pinterest Business Account that has been linked to an Ads Manager Platform. Promoting your pins is a four step process that is outlined below:

Create a campaign: here, you specify your campaign goals and your budget. A budget for Pinterest advertising is really up to you. Users have managed to see good results anywhere from $20 to $200, it just depends on how you want to spend and what your real goals are.
Pick a pin to promote: the catch with promoted pins is they must be pre-existing, unlike Facebook where you can create your ads in power editor. Typically, you want to leverage your best-performing pins. To view pin performance metrics, Pinterest has a built-in analytics platform, Pinterest Analytics. You can use multiple pins within one campaign, or stick to just one, it's up to you. The only real tips to keep in mind is that you want to promote original content that utilizes Pinterest best practices as much as possible and you want it to link back to a website. Do not link to any redirects or lead gen landing pages. Side note: Pinterest offers a type of pin called "Rich Pins", while there are a number of categories for rich pins, hospitality will be most interested in the "Place" rich pin, which enables the consolidation of business information such as address, phone number, and an interactive map through FourSquare.
Add more details: in the third stage, you add your additional details including your destination URL and audience targeting. Targeting through Pinterest can cover various categories including demographics, keywords, and interests.
Review and promote: the last step is to submit your promoted pin for review, which can take up to 24 hours.

Tracking Conversions
There are a number of ways to setup conversion tracking that can be broken down by different types of conversions (page visits, signups, checkouts, etc.) or action types (clicks, repins, views, etc.) Repins and closeups are some of the most important metrics on Pinterest purely because of what has been iterated above, Pinterest is a top of the funnel approach. People are planning or getting acquainted with your brand more so than they are converting.
Summary
Pinterest Promoted Pins are a great brand awareness tool for any business. As the platform grows in both users and digital marketing offerings, it is essential that the hospitality industry recognizes the importance and implement a strategy for utilizing the platform. Whether using Pinterest advertising or just having an active page, Pinterest is an important place for hotel businesses to see and be seen.