Are you showing up in local search results when it matters most?
LOCAL HOTEL SEARCH ENGINE OPTIMIZATION
The local search marketplace is extremely competitive, making it important to ensure you're using advanced local SEO tactics to compete for visibility to help drive qualified traffic and transactions. 46% of all searches on Google are local. With only the 3 top results are shown in a consumer's initial search (see screenshot below), do you want to risk the chance of someone clicking "more places" in hopes they find your business? Let us help guide you through the world of local search and tell you how to best optimize your hotel.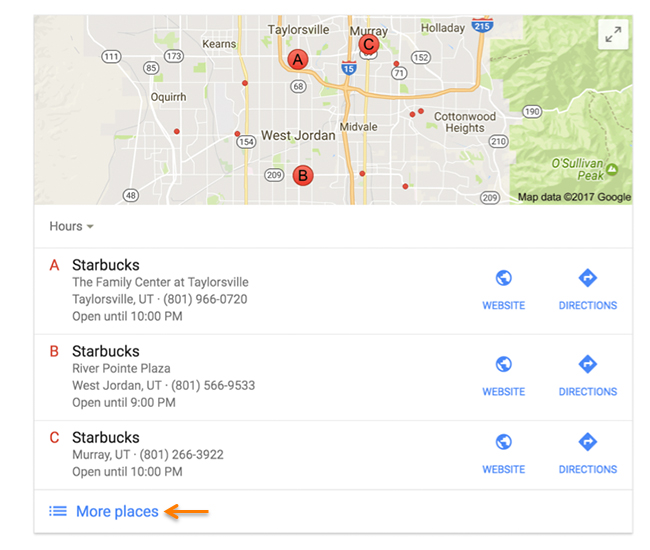 WHAT IS LOCAL SEO?
Local SEO is an online marketing approach to target locally based searches and to get businesses in front of potential customers when it matters the most. This includes Google My Business (GMB), which is housed in search results, Google+, and Google Maps. It also includes citations, consumer reviews, on-page optimization, links, and social signals. Consumers utilize local search results as a way for research and to make purchase decisions.
TYPES OF LOCAL SEARCH RESULTS
Hotels, restaurants, and other entertainment type businesses are listed in a Local Snack Pack on Google. These are very basic results showing star ratings from reviews, pricing, and a picture with a couple of amenities. There is no address, phone number, website link, or directions associated with these listings.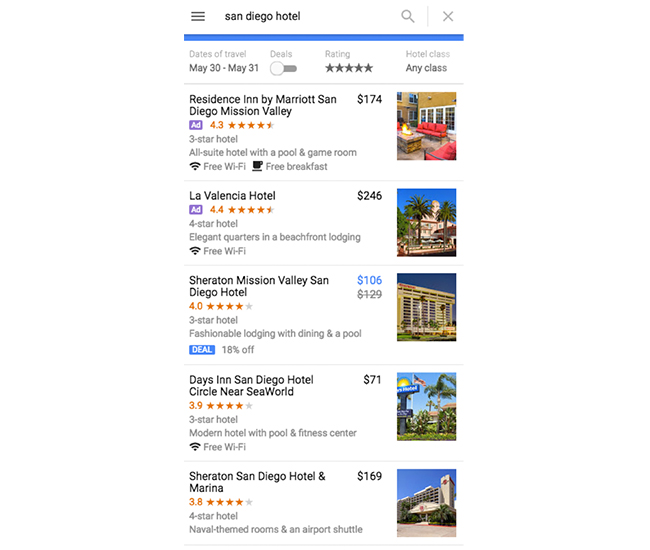 The local ABC packs are for branded search terms (Starbucks, Target, etc). These results do not show reviews, but are more for a direction/more information based search. They include a link to the website and directions with a phone number, hours, and partial address.
The local pack is for your broad category search terms such as lawyers, dentists, etc. These give the most information in the results to include reviews, phone numbers, address, hours, links to a website, and directions.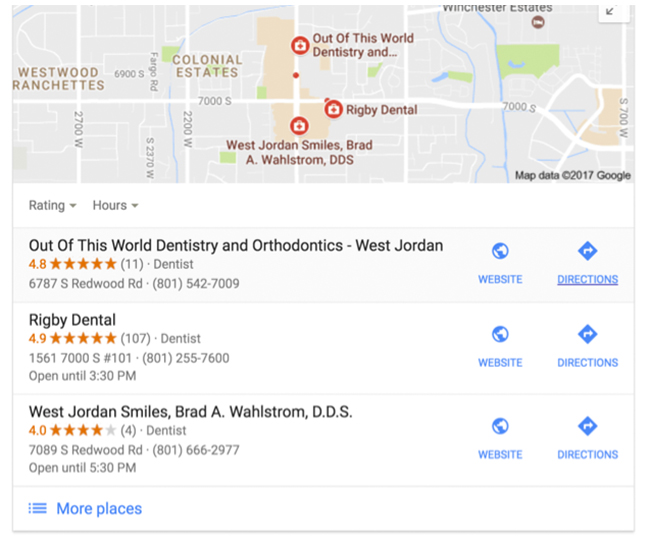 WHAT ARE THE TOP LOCAL SEARCH RANKING FACTORS FOR 2017?
The local search landscape is constantly changing and evolving, as are the ranking signals Google uses to deliver results. The following are the top ranking factors for local search, in order of importance, for 2017 via the Local Search Association:
Google My Business 19.01%
Links 17.31%
On-page optimization 13.81%
Citations 13.31%
Reviews 13.13%
Behavioral 10.17%
Personalization 9.76%
Social 3.53%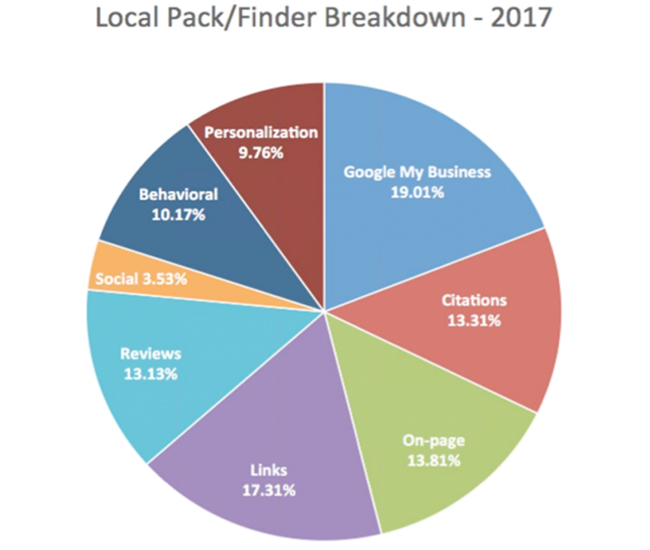 Let's break down each ranking signal:
GOOGLE MY BUSINESS is a tool offered by Google for businesses to manage their presence online within Google Search, Maps, and Google+. It allows you to manage the information that is seen by users as well as the products or services that you offer. According to Google, businesses that have claimed and verified their information with Google My Business are twice as likely to be considered reputable by consumers. Google My Business also allows for reviews and photos on your listing. When adding photos to your business listing you can increase your driving direction requests by 42% and clicks to your website by 35% compared to businesses who do not include photos.
CITATIONS are mentions of your business name and address on other websites and do not need to include a link. These are usually seen on, but not limited to, sites like yellow pages directory and chamber of commerce sites. Simply put, citations help search engines (Google and Bing) verify and validate that a business is real. By having other sites mentioning your business it tells the search engines that you are a part of the community and to help verify your business's contact information and categorization. Citations are a key component in the ranking algorithms for both Google and Bing.
ON-PAGE OPTIMIZATION is a marketing tactic to help the search engines understand what your business is about, where it is located, and what you offer. The only way a search engine can display your website on searches you wish to be visible for is if those search engines can understand this information on your site. The goal is to ensure you are targeting the most important local keywords that are going to get the most qualified traffic, which in turn, leads to reservations and money in your pocket! Who doesn't love free traffic?
LINK BUILDING is one of the most overlooked local SEO tactics, but it is incredibly important. Local SEO links are a tad different than standard SEO link building. When it comes to local links, you want them to come from local businesses in the community that are talking about things similar to what you do and/or offer. High authority websites are obviously helpful, but not as important in local links. So what are some examples of "community businesses"? Local events are a great way to start. Partnering with local event sites to get travelers of the event to see your hotel is an easy way to get exposure and an opportunity for a local link. Conventions, meetings, business conferences, local expo centers, and other venues can be a great avenue for new business.
REVIEW SIGNALS have increased over 20% in ranking importance over the past couple of years. Consumers are looking to the internet and past guests experiences to make decisions on where to stay. Google is realizing how important this is, in fact, according to BrightLocal's 2016 Local Consumer Review Survey found that 84% of consumers trust online reviews as much as personal recommendations. This means that consumers are turning to Google and other major outlets for information on your business before ever considering booking a reservation with you over a competitor.
In fact, Google just confirmed changes to the way they cumulate reviews on Google My Business. They are aggregating multiple review sites (Expedia, hotels.com, Google, etc) all into one. It is important that you are getting reviews, but of course, more importantly, good reviews!
Google has even gone as far as grouping reviews by type of traveler!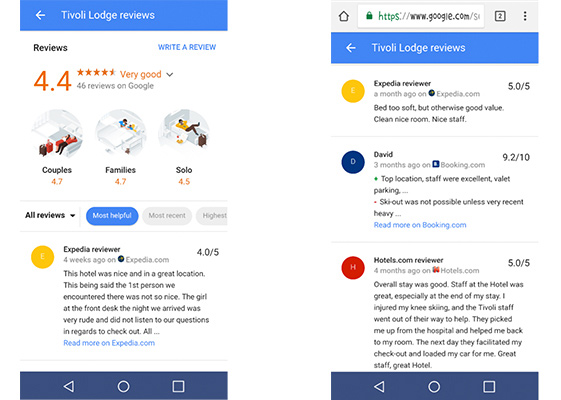 While Google has not confirmed SOCIAL SIGNALS as an official ranking system, it is a way to build your brand and reinforce legitimacy in the marketplace. Social also allows for another way to squeeze in your address and some branded keywords that could easily help contribute in your ranking endeavors. It is important to brand your social media profiles, be active and of course link to your social accounts on your website and from your social media accounts back to your website. Simple is best when it comes to social. This comes from Search Engine Land.
BEHAVIORAL SIGNALS include any organic interactions that are taken with your listings, website, etc. It all leads back to letting Google know that your business is legitimate. If consumers are interacting with your site and business on a regular basis, it lets Google know that you have the authority to be seen in their search results. This is where on-page optimization and social interactions really take a toll in getting your name out there and to show in search results. This comes from Moz.
Google and Bing use PERSONALIZATION SIGNALS to show relevant search results to consumers. This circles back around to using local on-page optimization and social engagement, which builds brand loyalty. Search results are based on past website visits, their social interactions (have they liked a certain page on Facebook or shared something via Twitter). This history of a user will reinforce your site to the search engines as one that should be shown more frequently. This is why it is important to stay active and continue growing your brand. This comes from Search Engine Land.
WHAT IS THE NUMBER 1 LOCAL RANKING FACTOR?
LOCAL SEARCH PROXIMITY FACTORS
Google has used the address of the business as the number one ranking signal since the beginning of local search. Meaning if your address was not physically in the city of the search then it would be near impossible to rank.
This year it has since changed to proximity factors. To be exact the proximity of your business address to the point of search. If you notice the below search query, the top 3 results do not necessarily meet the "top ranking factors" such as reviews, websites, citations, etc. However, they are showing as the top 3 results due to the fact that they are the closest in proximity to the consumer that was searching.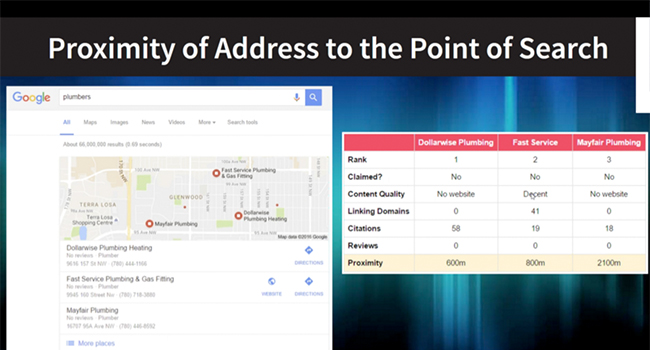 Why is this important to hoteliers? Although showing a decrease of importance since 2015 combined with the proximity search, the proximity of an address to the centroid is definitely a ranking factor for businesses like hotels.
If you notice the screenshots below, when searching for a hotel in Seattle, the top results shown in the local pack are all within about 10 minutes walking distance from the city center.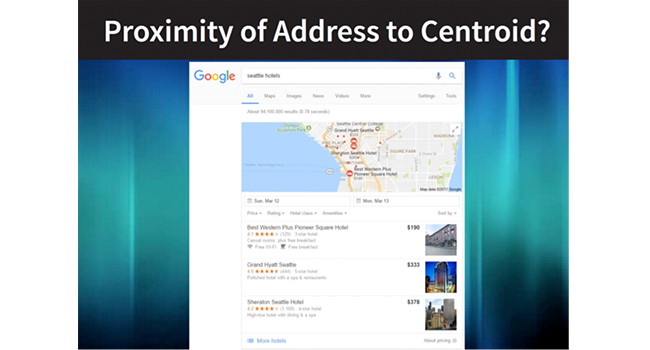 HOW CAN GCOMMERCE HELP?
GCommerce uses an ongoing management approach to optimization and uses enhanced profiles to distribute information to the top online directories, giving your hotel the best visibility in the search engines as possible.
We delve into keyword rankings and spend our time researching locally focused keywords to best optimize your website with. This includes all Meta tags and descriptions, headlines as well as on page copy, alt image text, and structured data. Structured data or Schema is becoming increasingly important in the competitive landscape of organic rankings in the hotel industry. This tool makes it easier for search engines to understand your website's content and delivers better information to the consumer. GCommerce wants to ensure we are providing the search engines with as much on page signals as possible in order to help you rank in the local world.
GCommerce Solutions also uses electronic customer relationship management programs to send out emails your guests post-stay that include directives to post on reviews to the top online review sites such as Tripadvisor, Google, Yelp and 100's of other local directory listings.
By utilizing our local directories on-going services we will:
Match, sync, and lock your listings in real time across our network of over 60 sites and apps. We will also create listings for you if you're missing from any of our publishers.
Update and push enhanced content you'd like to add to your listings including photos, videos, staff bios and room types.
Link your featured message to a reservations landing page. We can update that featured message anytime, so let your GCommerce Account Manager/Executive know about any upcoming events or specials you'd like to highlight.
Detect and suppress any duplicate listings across our network.
In summary, locally related searches continue to grow and for businesses to be successful in this space it is necessary to incorporate Local Search Optimization strategies into the overall SEO and marketing approach. GCommerce understands that consumers rely on search engines to evaluate businesses and to decide upon the best purchasing option based on accurate business information, user reviews and so much more. Our Local Search Optimization service ensures that your hotel is better optimized to ensure relevant consumers find you and book with your property.