6 Very Convincing Signals That Prove It's Time To Restart Your Hotel Marketing In May
*May 11th Update*
Online transactions have increased 37% week over week while sessions have remained flat
ECommerce rate has increased 36% week over week
Paid search ROAS increased from $3:1 in April to to $10.50:1 in May month to date
Google trends have show an increase in search interest for some locations and a decline in others
Client reports are confirming that OTAs are bidding on market terms in most markets and branded terms for only some hotels
Local organic impressions and traffic are maintaining the increase reported last week
---
Travelers have been confined to their homes for over a month or more due to coronavirus. They are constantly consuming travel-focused content, dreaming of future vacations, and ready to jump on the next chance to escape once it feels safe enough to do so. We're seeing indicators in certain markets that traveler confidence is starting to return, and May looks to be the ideal time for hotels to start actively marketing again to ensure they are poised to capture the most market share. Here are 6 signals that prove why your hotel should start marketing again in May.
1. Website Sessions Are Increasing For Hotels
Looking across our portfolio of hotels we see that website sessions bottomed out at the end of March and have been steadily climbing since the week of April 6th. Chances are your hotel's website visitors are returning and traffic is increasing indicating that consumers are in-market to research and book their next trip. Now is the time to make sure your hotel's plan for reopening is present across your website including any new procedures and flexible cancellation policies to make travelers feel safe and secure with booking at your property.
*May 11th Update*
We continue to see transactions increase week over week while sessions have remained flat. Transactions increased by 37% for our clients week over week while sessions only increased by 0.09%.
2. Online Transactions & ECommerce Rates are Increasing

Many states have announced plans to slowly reopen, and some consumers are starting to see the rainbow at the end of the storm. The pot of gold for many people is that chance to reconnect with loved ones and revive their souls with travel. For most of our clients, transactions flatlined from the middle of March to early April. Once stimulus checks started to arrive in mid-April our hotel clients started to see transitions trickle in and they have been steadily increasing ever since. If your state is poised to reopen in the near future, now is the time to start advertising for your hotel again to capitalize on demand. Week-over-week we're seeing a 25% increase in online transactions and a 30% increase in E-commerce conversion rates across our portfolio of clients.
*May 11 Update*
Week-over-week we're seeing a 37% increase in online transactions and, since sessions remained relatively flat, a 36% increase in Ecommerce conversion rates across our portfolio of clients.
3. Our Clients Paid Search Averaged $3:1 ROAS in April
Although ROAS averages are still very low (down more than 50%) compared to pre-COVID-19 days, the majority of clients that are currently running paid search advertising are seeing transactions resulting in a portfolio-wide average of $3:1 for April. It is important to keep in mind that most conversions are for stays that are 60+ days out. As more states announce and solidify plans for reopening we expect to see this increase even more.
Now is the time to find the best deals on advertising platforms including Google Ads. Paid Search CPCs are at a low (down 15% on average YOY for our hotels' clients) as competition has declined significantly. Advertisers that relaunch now will be rewarded with lower CPCs to help drive more traffic for lower costs.
Although accommodations specific search volume has declined from pre-COVID levels, it is still present for branded and non-branded terms for hotels across different markets. Get in front of these potential guests now to influence bookings.
*May 11th Update*
Paid search ROAS has increased to an average of $6.30:1 from April 1st through May 12th, with a $10.50:1 for just the month of May. CPCs continue to show declines year over year, down 25% indicating that competition in the paid search ad space is still much lower than last year and presents a great value opportunity for advertisers right now.
4. Search Interest is Increasing For Some Markets
In March we witnessed the largest decline in search interest for accommodations terms that we can recall in the history of our company. Using Google Trends we can get a better understanding of current search interest for accommodation terms vs historical and pre-COVID-19 interest. It is important to note that some markets that have been hit the hardest will take longer to recover, as stay at home restrictions will last longer and travelers may still feel unsafe in traveling to those locations.
Here are a few examples showcasing search interest across different geographic markets. You'll notice that after bottoming out in late March/early April, search interest for these accommodations terms has continued to increase steadily throughout the month.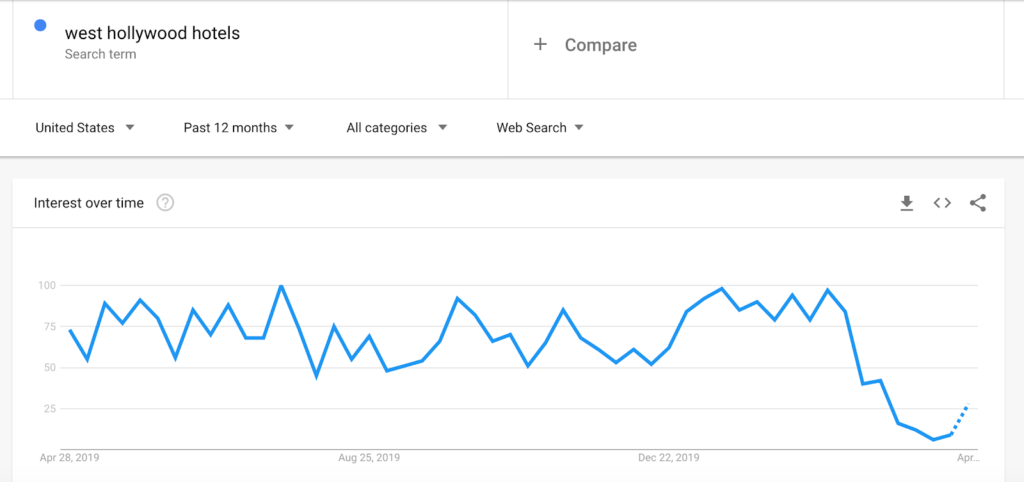 *May 11th Update*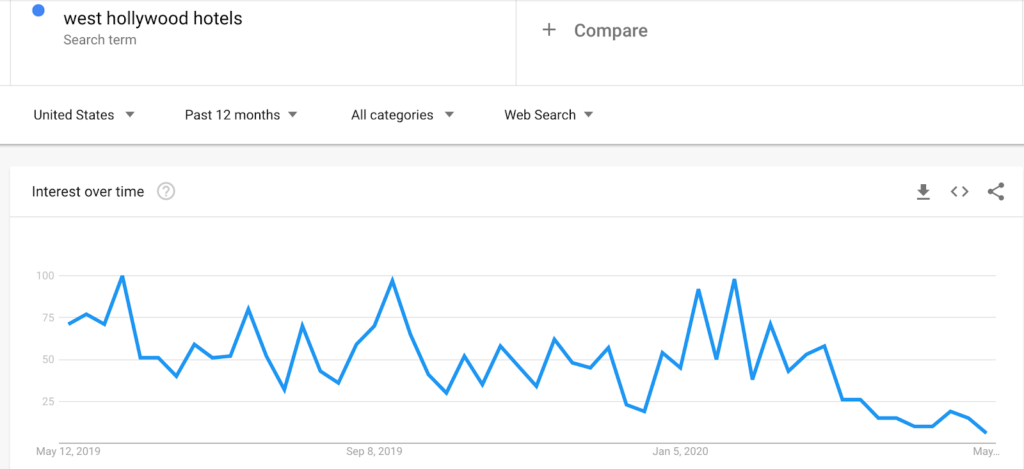 Google trends reporting a week over week search interest decline for "West Hollywood hotels", going from 15/100 to 6/100.
*May 11th Update*
Week over week search interest increases on "San Diego hotels" from 19/100 to 26/100 - roughly 50% of where search interest was the same time last year.
*May 11th Update*
Week over week search interest increases on "Park City resorts" from 9/100 to 18/100 - in line to where search interest was at this time last year.
5. OTAs Have Started Paid Search Advertising Again
This week, Search Engine Land noted that several OTAs have resumed their paid search advertising, including Trivago, Booking.com, and Priceline. This may indicate that these travel companies are starting to see granular improvements and signs of increased interest from their own data.
*May 11th Update*
Clients running auction insights reports show OTAs (Booking.com, Priceline.com, Hotels.com) bidding on market terms for all markets but only branded terms for some clients. See example Auction Insights report below.
6. Local & Organic Impressions and Traffic are Increasing
Towards the end of April, many of our clients started to see an uptick in local organic impressions across search and maps.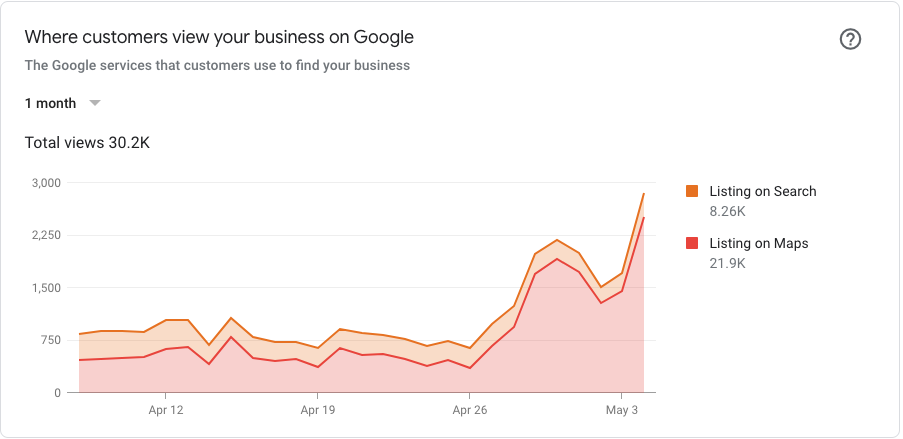 This increase in search impressions on Google has also resulted in increased traffic and other customer actions such as calls through their Google My Business listings.
*May 11th Update*
Reports show that some clients are maintaining the increased local organic views and customer actions reported last week. The steep decline on May 6th appears to be a glitch in Google My Business data available for that date.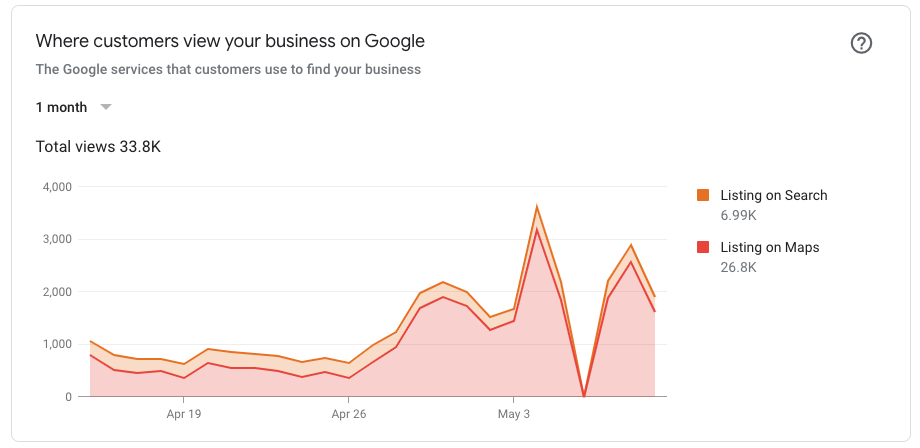 We've also seen many clients' total organic sessions increase by at least 15% week over week, indicating an increased search interest in a combination of branded and market terms for these hotels.
As we start to see search volume increase for accommodations terms and governments relaxing stay at home orders in the next few weeks, pent up travel demand will evolve into bookings. Since total demand will still be much lower than pre-coronavirus days, hotels need to be ready and act quickly in order to capture the available demand. GCommerce strongly recommends that hotels in markets that show signs of opportunity prepare to go live with paid media in May. It will be extremely important that hotels clearly message their new cleaning policies, cancellation or change policies and more to make consumers feel secure enough to book at their property.
If your hotel needs guidance on how or when to prepare to re-launch marketing please reach out to our hotel digital marketing specialists today.