Facebook Wedding Ads Continue To Drive Leads During COVID-19
With so much uncertainty during these times, there is one thing that GCommerce is certain about - wedding requests for proposals continue to roll in for hotels. Now more than ever, people are on their devices, trying to find an escape, planning for brighter times ahead. While people are still planning for future wedding arrangements, don't miss out on this opportunity to be in front of a highly qualified audience to drive wedding leads for your hotel.
All of our clients running wedding lead campaigns right now are seeing leads continue to roll in. For example, one client is seeing significant increases MOM for wedding leads.
In January, when the COVID-19 threat was still relatively low, the client collected an average amount of wedding leads. From there, as travel bans continued to become stricter, submissions continued to increase.
In February the number of leads increased by 155%.
In March, we saw another jump with a 35% increase in wedding leads.
How to Get More Wedding Leads for Your Hotel
GCommerce recommends a variety of tactics to help drive more wedding leads for your hotel but the channel that we see the most success with is social media campaigns. We recommend running Facebook wedding ad campaigns, testing lead generation campaign types and trying Instant Experience ads.
Facebook Lead Generation Wedding Ads for Hotels
Wedding lead generation campaigns look just like normal Facebook wedding ads, however, rather than sending a user to your hotel's website, the ad will populate a request for proposal form for the user to complete. The information is exactly the same as it would appear on the RFP on your site and the fields can be customized. Wedding lead generation campaign ads tend to have a higher completion rate since the user never needs to leave or click through on the ad and the RFP form is populated directly to them based on their Facebook user information. Once the user completes the form and hits submit, an email notification will be sent to the determined list of employees from the property side with the info from the form. These are also collected within Facebook manager and you can download that list at any time.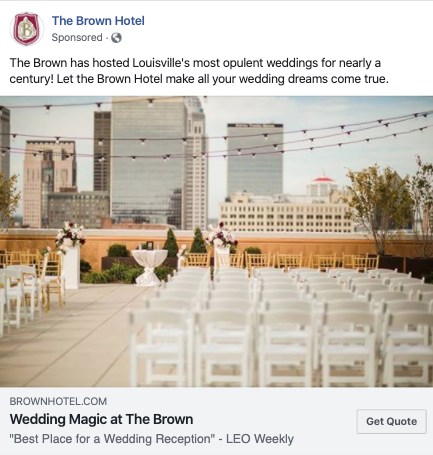 Best Practices for Wedding Social Media Campaigns During COVID-19
Focus on the local drive market- At this point, the majority of our client's wedding social media campaign leads are coming from a drive market radius and surrounding states. While air travel and travel bans are still fairly uncertain at this time, keep your targeting local, within a drive market radius for your social media wedding lead campaigns.
Expand or Revamp Your Hotel's Website Content- Our clients' social media wedding campaign ads are still seeing a lot of great engagement with plenty of guests tagging others and leaving comments showing excitement. Although overall traffic is down YOY, in the past 30 days, we're seeing that wedding landing pages have an increased average session duration and higher pages per session compared to the previous year. This shows that users are interested and are taking more time to explore hotel wedding venue content and details. They are also visiting additional pages on the hotel website once they leave the wedding page, perhaps F&B pages to learn more about culinary offerings, or room types for room blocks. Make sure the content on your hotel's website is up to date, as these are positive user engagement metrics that users are exploring your site.
Interested in learning how GCommerce can increase your property's wedding leads during this crisis and beyond? Reach out to your Account Executive today!