7 Themes to Drive Your Hotel's Messaging During a Crisis
Context is everything when it comes to messaging and the current worldwide situation means whatever messaging your brand puts out there needs to consider this heavy atmosphere. The world has already changed forever and your brand's messaging needs to be adjusted to make sure it cultivates the right response for your audience. Whatever brand messaging you choose for your hotel, it needs to be consistent across all of your channels from your website to social media and advertising. Your brand also needs to be the one to drive this direction to any partners that are helping to manage these channels for you. Here are 7 different themes to help guide what type of messaging you want your hotel to use during these times. Whichever you choose, it's important to be authentic and use empathy to understand the best way to speak to your audience.
Note- these are just examples and represent how the messaging would appear in an ad. These are not live ads.
1. Share Messages of Hope with Your Hotel's Audience
I think we can all agree that hope for future travel is one of the things keeping us positive right now. Humanize your brand's messaging by infusing it with your own messages of hope and looking forward to the days when your guests will fill the property again.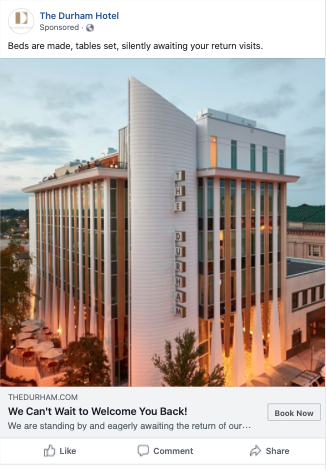 2. Inspire Your Audience with Dream/Aspirational Messaging
Similar to a theme of hope, dreaming, researching and planning for future trips is still happening around the world. Use these themes to help inspire people who are currently in this dream and planning phase of their customer journey. Craft messaging to tie into customers' dreams and aspirations.
3. Help Your Hotel's Audience Feel Safe & Secure
Anxiety is something that everyone is experiencing right now and we are all looking for ways to escape it. Tie your messaging into this basic human need to feel safe and secure to help soothe your audience. Use your messaging to inform them of your flexible cancellation policies and that booking their future stay at your property is a worry-free experience.
4. Demonstrate Empathy & Understanding In Your Hotel's Messaging
We connect with brands that speak to who we are and understand us. Use your brand messaging to showcase your deep understanding and empathy for your audience. It humanizes your brand and inspires an even deeper connection to your audience, and right now we all need that human connection no matter where we are.
5. Describe Your Brand's Stance On Corporate Social Responsibility
Another way audiences develop a deep connection with specific brands is through a mutual agreement on social responsibility. Brands everywhere are taking a stand and implementing measures to keep their customers and the world safe. These decisions are not always driven by their ability to make profits and customers are taking notice and standing closer to these types of brands. If your hotel has made the difficult decision to temporarily close you can share this with your audiences to explain how your brand is being socially responsible to more establish respect from your audience.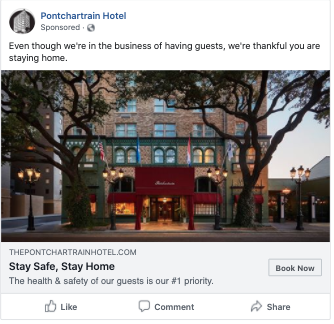 6. Support Your Audiences' Desire to Book that Once in a Lifetime Trip
A lot of people are reevaluating their life's priorities during this time. The pandemic is an unsettling reminder that life is short and never certain and things can change at any time. Tap into these feelings by presenting messaging that allows people to prioritize their desires to book trips they had been putting off. Although they can't travel now, there is a lot of pent up demand that will eventually open up and drive new bookings.
7. Provide a (Future/Virtual) Escape to Your Audience
We might all be stuck at home right now but that doesn't mean we can't mentally escape. Dive into people's desire to escape where they are right now by crafting messaging that provides them with a beautiful mental image of your property. Give them permission to escape to the mountains, your spa or other experiential amenities. Everyone deserves to treat themselves in some way once this crisis is over, so provide them with the picture of the perfect escape to book when they are able to.
Whatever messages your brand decides to communicate, make sure they are authentic and take into consideration the feelings, fears, and perspectives of your audience. We will get through this and once we do, we'll all want to travel and reconnect with our world.