We created a custom digital marketing strategy in order to:
1

Maintain brand awareness in key markets despite the economic impact of COVID-19.

2

Capture travelers as they were dreaming about future travel while they are confined to their homes.

3

Drive campaigns toward top in-state markets to focus on the property being a perfect opportunity to escape city life.
The situation
On March 15, 2020, properties across the US saw a dramatic decline in reservations as well as an unending amount of cancellation requests for upcoming travel due to COVID-19. Surf and Sand Resort and the JC Resorts team knew that despite the economic impact of COVID-19, they would need to maintain some level of brand awareness in key markets during this time in order to rapidly secure market share once things opened up again. Of course, nobody knew exactly when things could reopen, so our strategies were reviewed weekly as new COVID updates were released.  All efforts were placed on digital channels, including the resort maintaining a steady, reassuring presence on social media. Basically, it was a "keep the lights on" strategy while many others went completely dark on digital spending.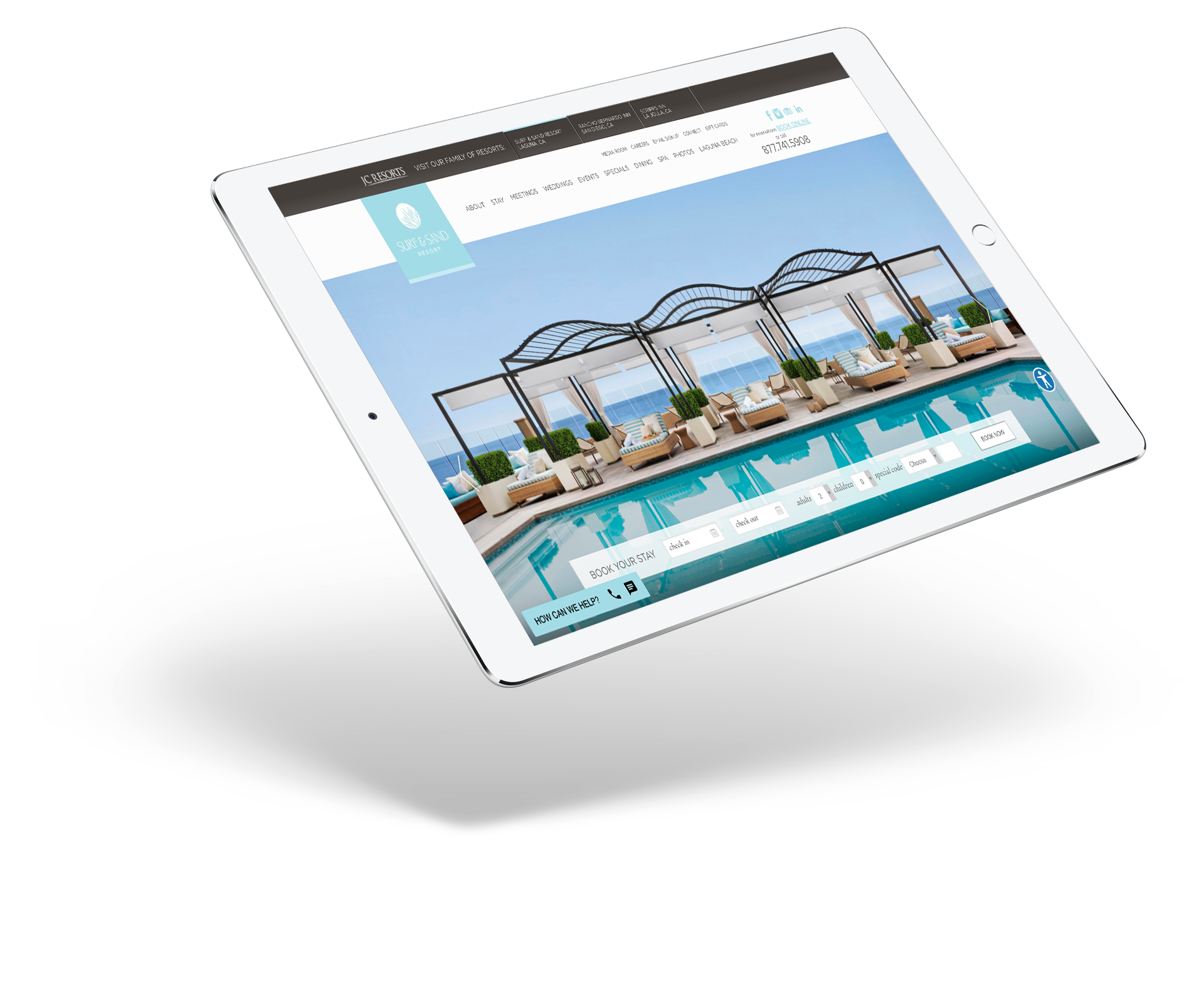 What we did
GCommerce knew from the start we couldn't follow a stock playbook to marketing the Laguna Beach property during these unprecedented times. Our marketing efforts needed to capture people as they were dreaming about future travel as well as have a deeper focus on top-performing markets. We revised the paid search campaign strategy by removing out of state locations and increasing bids on top in-state markets. The demographics largely remained the same though more emphasis was placed on top age groups and household income. We reduced our overall budget to align with less cash flow on property, but it was enough to continue targeting brand keywords, market-based keywords (i.e. Laguna Beach hotel), and wedding keywords.
GCommerce leveraged messaging that focused on leisure getaways and escapes, which was relevant while travelers were confined to their homes. The top-performing ad focused on the property being a family-friendly destination and the perfect opportunity to escape city life and of course highlighting the beachfront access. We also monitored Surf and Sand Resort's Insight report and Google trends for 'Laguna Beach Hotels' keeping an eye on their interactions by state and in the past 30 days.
 As the state opened we've increased the budget and continued to focus targeting on California and the drive market, pushing a significant amount of the budget into market terms to generate brand awareness as consumers started looking for places they could travel to.
"Navigating COVID-19 has taught us all the importance of being nimble and responsive. The great thing about digital is that you can flex quickly. As such we believed our best strategy was to "keep the lights on" for those still actively searching in order to support a swifter comeback when we could re-open.  The strategy has proven to work well and the resort is in high demand. We could only do this with a partner, G-commerce, that was nimble as well and ready to act responsively as we all navigated constantly changing news."
Helen McCabe-Young | Marketing, JC Resorts
Conclusion
For a property to decide to continue marketing a 5-Star property in California during a pandemic when many hotels were shutting down and government restrictions were changing daily was not an easy decision, but it was the right decision. Surf & Sand Resort chose to continue to generate awareness and it paid off significantly in the end with July occupancy far outpacing competitors and other California hotels we see still sitting in single-digit numbers. 
When we compared three other 4 & 5-star beachfront resorts in Southern California, we saw a minimum -37% decrease in sessions and -64% decrease in revenue over May & June versus the 19% increase in sessions and 88% increase in revenue year-over-year that Surf & Sand realized.
We acknowledge that Surf & Sand has the benefit of being a beach destination hotel that is outside of a downtown market, but they also performed better than any of our other beachfront resorts during this timeframe because of their continued marketing efforts! Transactions continued throughout all of COVID with the low being the week of March 31st (but still with positive gain for web bookings) to a high the week of May 19th. The resort generated positive revenue via the website every week even when closed completely and even generated a minimum ROAS of 10:1 on paid search throughout COVID, ending June with a record 180:1 ROAS.
The results
29.5%

Increase in Website Sessions YOY

138.5%

Increase in Paid Search Revenue YOY

180x1

ROAS for Paid Search
Next-Project
Five Star Legendary Napa Valley Property Finds Incremental Success With Digital Marketing